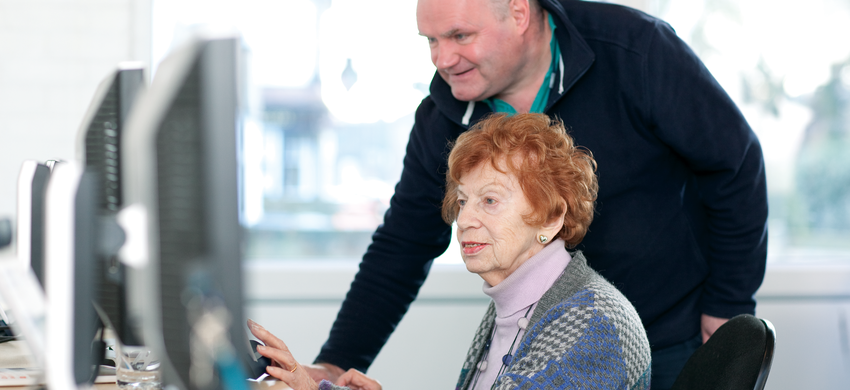 Age UK Bromley & Greenwich relies on volunteers to help us offer vital services in the local community. Would you like to lend a hand?
Community Time Bank Volunteers are our most valuable resource and are at the heart of all we do at Age UK Bromley & Greenwich. Our volunteers come from all walks of life and use their talents, skills and energy to make a positive difference to the lives of older people.
We operate a barter-like system called Time Banking, giving a little help and getting a little help through skill swapping with other volunteers. Choose from the many skills available or visit a volunteer interest group.
Do you have some time to spare?
Do you have hobbies, interests, work or life skills that you would like to use more often?
Are you retired and would like to use your professional skills to assist other people?
Have you recently stopped work, or have your children left home leaving you looking for a new challenge?
Are you looking to return to paid work and would like to 'brush up' on your office skills?
Are you still working but willing to spare some time in the evening or weekend?
Examples of Volunteering Roles with Age UK Bromley & Greenwich
Befriending in your Community

Could you visit or call a lonely older person? Help us fight loneliness in Bromley & Greenwich by becoming a befriender.

Form Completion Service

Help people in their own homes complete government forms to ensure they are accessing the full benefits they can.

Giving Information and Advice

Are you interested in helping us to provide vital information and advice to older people in Bromley & Greenwich?
Hospital After Care Service

Working with clients in their own homes you will be providing a vital service to provide reassurance, building confidence and self-esteem in people recently discharged from hospital

Wealth of Experience

Utilising your exisiting skills to help around the house, you'll be doing those important little jobs like putting up curtain rails, gardening and one off shopping trips.

Office Administration

Essential to the smooth running of the service you will be engaging your computer skills to help keep track of our nearly 500 volunteers!
Why volunteer?
Volunteering is a great way to meet new people, learn new skills, and support the work we do in the community.
Who can volunteer?
Almost anyone can be a volunteer. We have a wide range of roles which suit different people and different skills.
How much time do I need to give?
It depends on the volunteer role you are interested in. Some people give an hour a week, other people do more.
Contact Us
Get more information on volunteering and how we can work together to improve the lives of older people
What else you can do to support us
Take part in a fundraiser

Could you help us to raise vital funds by taking part in a fundraising event? We have regular events such as the Big Knit, but you could also do your own fundraiser like a cake sale.

Get your colleagues involved

Could you talk to your colleagues or your employer about how you can support us? We have lots of ideas for how organisations can get involved, including sponsoring an event, making us Charity of the Year, or donating equipment.